Conceive India IVF offers special VIP services to our International Patients as Dr Madhuri, our IVF Specialist and founder treated numerous patients from various Nationalities like Russian, Ukrainian, Mexicans, Moroccan, Indian, Syrian, Iraqi, Egyptians, British, Pakistani, Bangladeshi etc while she was serving in Middle East for past 13 years. She knows Arabic very well & trained in IVF internationally in countries like USA, UK, Germany, Hungary and Czech Republic. We are committed to Compassionate Care to help you Conceive as well as we offer world class hospitality to tour you around Incredible historical & adventurous places in India.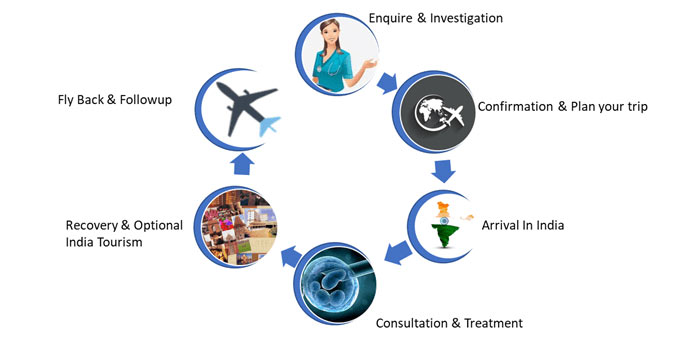 6 Easy STEPS for IVF care for
International patients
Step 1: Enquire & Investigation
Enquire through website www.conceiveindiaivf.com or call us directly for infertility treatment specially for International patients. A 24-hour response by our IVF experts using E-mail, WhatsApp, Skype, online video chat, phone is available to satisfy the needs of patients.
Provide detailed information
Kindly send a duly filled enquiry form with details of problem and all medical reports (ultrasound scans, pathological reports/images, X-rays along with photographs) as an attachment with the enquiry form or digital media.
Conceive IVF team will revert with:
A complete outline of the surgical and recuperation period for your selected treatment/procedures (details about that, treatment duration, recovery time) will be prepared.
Moreover, you will have a comprehensive treatment cost, treatment letter and travel plan.
Step 2: Confirmation & Plan your trip
The patient confirms the decision and organize the trip to travel to India. We will issue letter of invitation to the patient and other accompanying members to apply for the visa to the Indian embassy (from where patient will get the visa)
The patient provides exact travel information to the Conceive IVF patient relation department.
We will provide the detailed instructions of the patient's treatment and detailed travel itinerary.
We will assist you to get best hotels near the IVF center through our strong network with most star hotels. The patient will select the accommodation depending upon his/her choice and affordability.
Step 3: Arrival in India Conceive IVF Pune
We will provide you personal assistant to greet you at the airport and pick you up from airport. The assistant will guide you about transportation within city, famous places to visit and food joints asper your taste.
The assistant will help you with Foreigner Regional Registration Offices which is the primary agency to regulate the registration, movement, stay, departure, and for recommending the extension of stay in India for foreigners.
The patient is then welcome to the Conceive IVF center for the consultation and registration procedure is done.
Step 4: Consultation & Treatment
In the hospital, the medical team will agree on the outcome, alternative and possible complications. Once agreed, the Consultant will perform treatment, procedures and final check. Also, the patient's demand 'will be reviewed with the IVF specialist and the specialist anesthesiologist.
On the day of the procedure patient relationship team will ensure that is everything from travel, to procedure to food is arranged in timely manner.
Step 5: Post treatment recuperation and recovery time
Patients must recuperate for the required recovery period which is dependent on the nature of the procedure.
After recovery, the doctor will do the follow-up consultation as per appointments scheduled asper treatment packages.Our facilities are world class & follow international American & European standards.
Visit India as a tourist (optional)
Trip options (visit ancient and tourist sites of India)
Step 6: Fly back home
Feedback and back home : You will be transferred to the airport. But before that we look forward for your comments and feedback to improve our services.
Forthcoming follow-up : After going back to your country, we will keep our contact with you and we won't lose touch. We will be at your disposal (any time) to answer all your postoperative questions.
Connection with doctor : Email or on call consultations are available as well.
Review
For me it is always like, first impression is last impression and I must say it's worth to visit at Conceive India IVF clinic and to consult with Dr. Madhuri Roy, who is an virtues personality and great mentor to attend and solve all the issues of the patient, very friendly and calm in nature.
Dr. Madhuri Roy, an excellent medical professional, her profile, service tenure and qualifications speaks more than my review. Conceive India IVF clinic, brought us world class facility, equipped with all latest technology to get accurate and precise results. We were pleased to get this all in India and that also in Pune city, which certainly saved our pocket a lot.
Our experience was remarkable and we wish to visit again for consultation whenever required, highly recommended to couples who want/seek bundle of joy.
Great facility at very affordable price. Good atmosphere of clinic, matching all standard of international guidelines, sizable and equipped pharmacy, excellent infrastructure.
Good and friendly staff who serve the penitent like family member, registration procedure is very simple and user friendly.
Thank you Dr. Madhuri Roy and entire team of Conceive India IVF, see you again.
With warm regards from Doha Qatar.
DK Vishal